Non-fuel mineral resources are presently mined in nearly every county of Virginia. The physical and chemical characteristics of these resources often reflect the type of rock in the geologic province from which they are extracted. For example, carbonate rocks in the Valley and Ridge province provide crushed limestone aggregate and cement; intrusive igneous and metamorphic rocks in the Blue Ridge and Piedmont provinces are mined to produce crushed granite and greenstone; unconsolidated sediments in the Coastal Plain provide sand and gravel natural aggregates. Construction aggregates make up the greater proportion of the non-fuel minerals mined in Virginia, with contributions from operations producing crushed stone, sand and gravel, and clay and shale.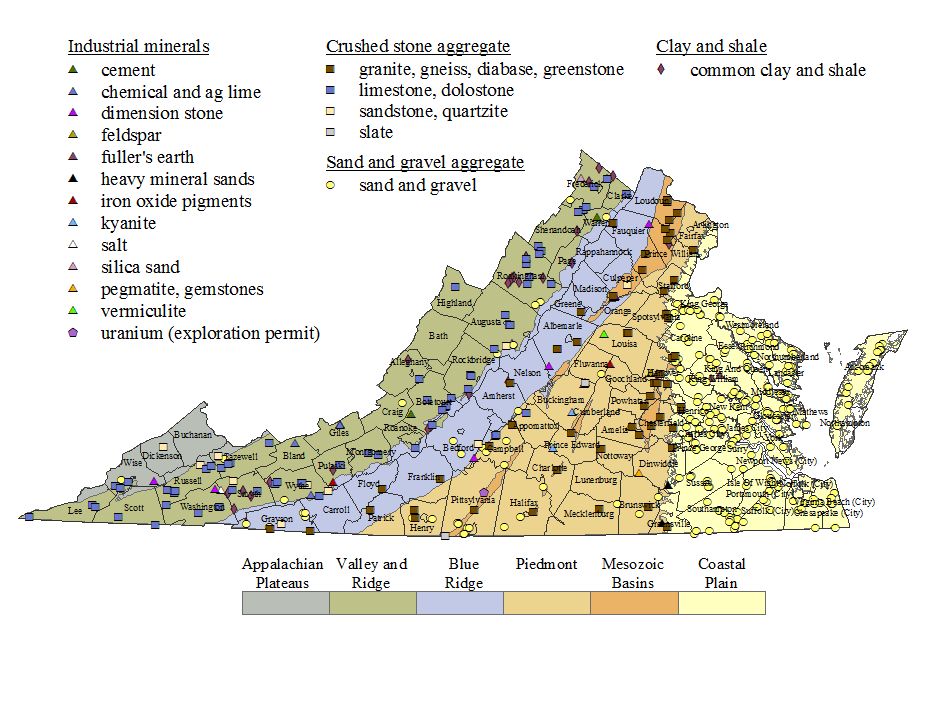 Crushed stone, used extensively in building and road construction, accounted for about 78 percent of the total reported tonnage and 56 percent of the total estimated value of non-fuel minerals in 2022. Sand and gravel, also used primarily for construction, amounted to 14 percent of the total tonnage and 9 percent of the total value. Clay and shale serve as raw materials for manufactured bricks, cement, roofing products, etc., and accounted for less than 1 percent of the total tonnage and estimated value in 2022. Industrial minerals encompass a wide variety of mineral commodities used in construction, refractory and ceramic products, chemical and filtration processes, among other specialized applications. The combined tonnages reported in 2022 for this category of minerals amounted to about 8 percent of the total, while the combined estimated value was about 35 percent of the total.
Ores containing iron, copper, lead, zinc and the precious metals gold and silver were mined in Virginia in the past, but most of these metallic deposits are small and of relatively low economic importance today.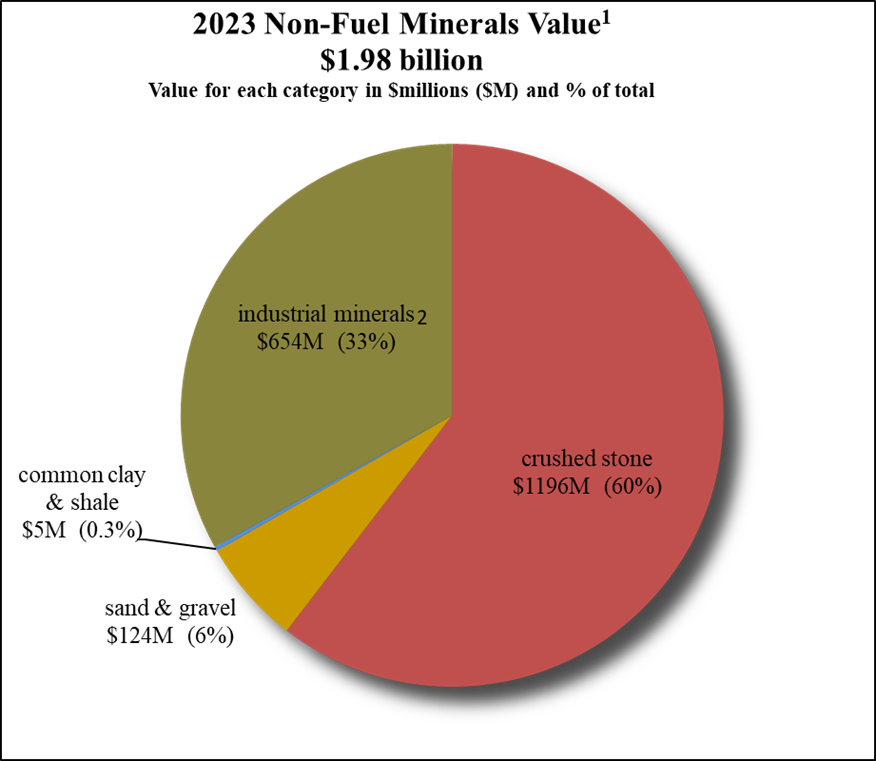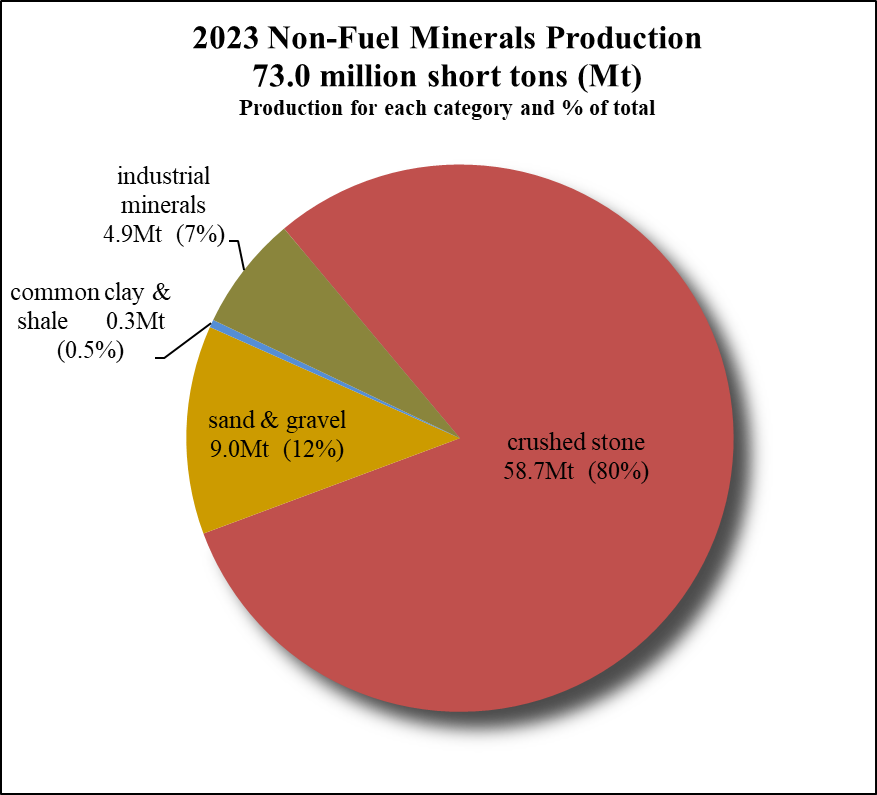 1 Estimated.
2 Combined value of cement, lime, fuller's earth, dimension stone, feldspar, gemstones, industrial sands, iron-oxide pigments, kyanite, mineral sands (titanium and zirconium concentrates), salt, and vermiculite.
In 2022, Geology and Mineral Resources Program composed an interactive website: Aggregate in Virginia. This story map series include a description of aggregate and why they are important to us, the supply and demand status in each county, the location and production of aggregate mine sites, how geology can contribute to aggregate mining and land use planning, and the general geotechnical characteristics of aggregates in the state. This website also provides two activities for K-12 education. Click below to view the story map.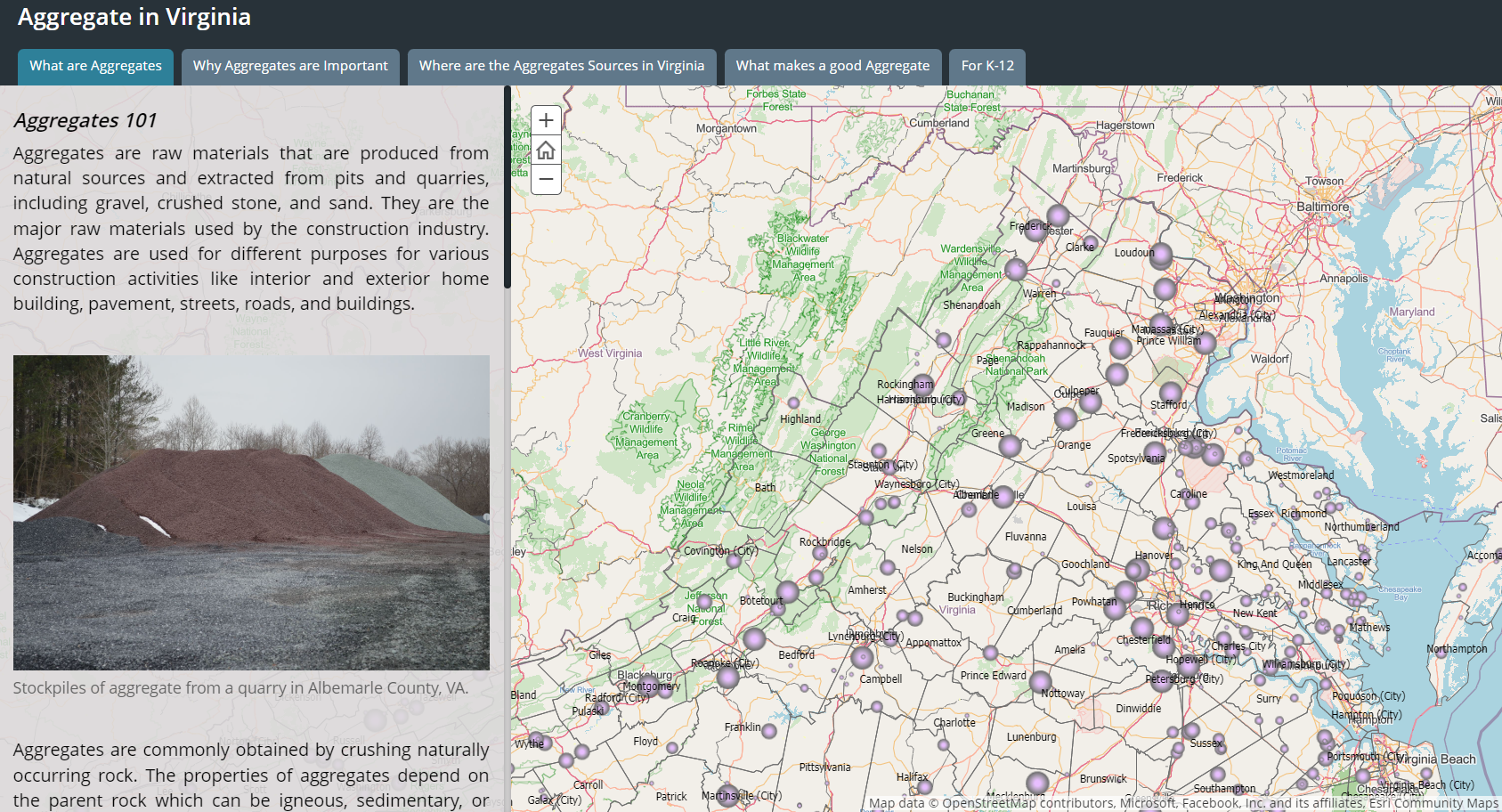 Some resources mined in Virginia are considered "Critical Minerals" by the United States government. Critical minerals are commodities that are important to national or economic security. For example, some critical minerals play an important role in the manufacturing of a necessary material for the energy industry, such as uranium and hafnium. Other critical minerals, such as tantalum, are critical to the electronics industry. Although such resources are highly important to various sectors of the economy, the United States is heavily reliant on foreign import. Historically however, several critical minerals were mined in the Commonwealth. Learn more ».