Nuclear
Did you know that 19 percent of America's electricity comes from nuclear power? That's according to the U.S. Department of Energy. With just 92 nuclear reactors operating across the nation, this energy source still accounts for half of the country's clean energy electricity production. Virginia has a long history with nuclear energy and is a national and industry leader for capability and expertise. Two nuclear power stations within the Commonwealth, Surry and North Anna Power stations, currently produce 95% of Virginia's carbon-free electricity. In 2022, Governor Glenn Youngkin announced that Virginia would build a Small Modular Reactor (SMR) in southwest Virginia. The goal is to have the SMR operations by 2032.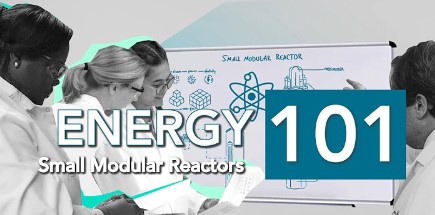 Energy 101: Small Modular Reactors U.S. Department of Energy
Virginia Nuclear Energy Consortium Authority
The Virginia Nuclear Consortium Authority (VNECA) was created to make the Commonwealth a national and global leader in nuclear energy and to serve as an interdisciplinary study, research and information resource for the Commonwealth on nuclear energy issues. Learn more about the authority.
The Virginia Nuclear Energy Consortium
The Virginia Nuclear Energy Consortium is a public private group created alongside of the VNECA to represent stakeholders invested in the development of nuclear energy. These stakeholders include Virginia, colleges and universities, nuclear energy companies, suppliers and organizations that support the advancement of the nuclear industry. Learn more about the Consortium here.