One responsibility of Geology and Mineral Resources is to serve as a repository for geologic and mineral resources information relevant to the Commmonwealth of Virginia. We have maintained valuable collections of geologic materials since the early 1900s. Our archives include extensive collections of rock, mineral, and fossil specimens, historic photographs, rock thin sections, results of petrographic analyses, geochemical laboratory results, reports on groundwater and mineral springs, historic and out-of-print publications, geophysical well logs, seismic lines, well cuttings, and drill cores.
Economic Geology Mineral Resource correspondence dated 1919
Recognizing the need to both preserve these valuable collections and improve the ability of staff and customers to search for, cross-reference, and access the information they contain, we implemented a long range data preservation plan in 2007, initially addressing 17 key collections. Since that time, the number of identified collections has grown to 23, containing approximately 104,000 individual items. With support from the U.S. Geological Survey (USGS) National Geological and Geophysical Data Preservation Program (NGGDPP), we began a comprehensive process of inventorying, cataloging and digitizing these collections to be made available to the public. As part of this work the collections were uploaded to a national repository known as the National Digital Catalog.
Current Work
For the 2020-2021 grant year, the National Geological and Geophysical Data Preservation Program (NGGDPP) grant will support Geology and Mineral Resources in the continuation of inventory, cataloging, scanning and metadata creation of the New Jersey Zinc Company Historical Collection. In the 2018-2019 grant year, we collected, transported and scanned nearly 5,550 records from the mine for long-term preservation. Environmental stakeholders, land use planners, and historians alike may utilize these records in construction, geologic research, and even as a means to contextualize the mine's role in local and state history. Our work to preserve New Jersey Zinc's records is ultimately an effort to preserve the historical significance of Wythe County's lead mining while ensuring that the mine's data may be utilized for future research. This mine was the oldest continuously operating mine in the United States upon its closure in 1981. While the company did not begin its operations until the early 1900s, the history of Austinville's mineral wealth stretches back to the 1750's. Learn more about The New Jersey Zinc Company here »
In addition we will continue working on our
Critical Mineral Webpage Series
. We will curate detailed information from our collections to support the areas of interest in Virgina for the seventeen critical minerals we have identifued with high to moderate economic resource potential in Virginia.
Access our collections here.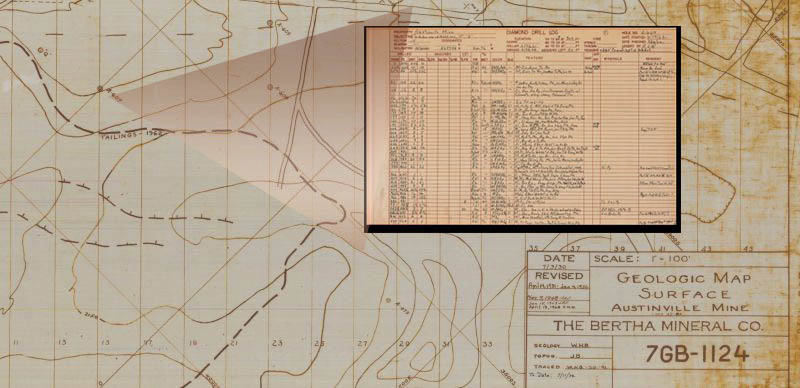 Geologic Surface Map of 9th Level with Drill Log for A-607, Bertha Mineral Company, 1930
For the 2019-2020 grant year, the National Geological and Geophysical Data Preservation Program (NGGDPP) grant supported Geology and Mineral Resources to update and create several collections incluing:
Unpublished Geological Map Collection: This collection consists of field maps, compilation maps, transfer maps, field books and other regional geologic maps at various scales that have not been formally published by us. These maps and documents were produced by geologists during the course of field studies.


Economic Geology Mineral Resource Files Collection: These documents includes records of active and inactive mine sites. These are observations and field interviews made by staff geologists from early 1900 until 1986, before the state enacted mineral mine reclamation laws. These records provide useful information about mining activity during this time period. Many of these sites are abandoned and were never reclaimed, posing potential environmental and safety hazards. A second part of the collection of paper files relates to mineral resources organized by county. Within this collection are observations, field notes, correspondence, test results and research made by staff scientists by commodity dating as early as 1900. There are also maps denoting the location of known mineral resources by county.


Historic Images Collection: Additional slides will be added to the Historic Images Collection, which currently houses over 14,500 items. Staff members recently discovered an additional 1,030 35mm slides containing images of mineral mine operations in Virginia dating back to the 1980s. These slides have an identifying permit number and pertain to mining operations, reclamation work, and public safety hazards.


Abandoned Mineral Mine Land Collection: This new collection includes archived materials of mines that have met the state requirements for reclamation and have been released from permit. The archived materials are in paper, microfilm and electronic format and include permit maps that show what mineral resources were mined, where mineral resources were found, permit applications, tonnage records, photographs, slides, correspondence, and reclamation plans which contain information with respect to public safety hazards and economic development in the future.


Drill Core and Well Cuttings Repository: This collection is a valuable resource for the minerals and energy industry as well as geoscientific investigations. We will enhance the digital access to materials in our Repository that have potential relevancy to critical commodity resources, including high resoultion imagery of the core.


Depth to Precambrian Basement Map: We will Provide a depth to Precambrian basement map in digital format using the GeMS protocol. The accompanying metadata will have information concerning locations of data points and seismic profile lines, drill core intercepts and identification of formation boundaries, total core depth, and other vital attributes.


Critical Mineral Webpage Series: We will develop a series of webpages for the 26 critical commodities (of the list of 35) that have reasonable geologic potential: aluminum, arsenic, barite, beryllium, cesium and rubidium, chromium, cobalt, fluorspar, gallium, germanium, graphite, magnesium, manganese, niobium and tantalum, rare earth elements, scandium, tellurium, tin, titanium, tungsten, uranium, vanadium, zirconium and hafnium.